Our Mission
At Resurrection Lutheran Early Childhood Center we understand that choosing your child's school is one of the most important decisions you'll ever make. We focus on educating the whole child: intellectually, physically and spiritually. Our small class sizes allow our teachers to get to know each child and their needs. We truly believe the first five years of education are the most important! Resurrection Lutheran Early Childhood Center offers the perfect balance of learning and play so children are prepared for kindergarten.
Watch & Learn
---
Early Childhood Center Overview
Preparation of the Students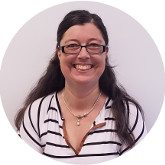 Mrs. Sara Ehler
Experience
2017-(Present)
Resurrection, Aurora, IL
2001-2003
ChildrenFirst, Minneapolis, MN
1999-2001
Head Start, Mankato, MN
Education
1999 (Grad)
Bethany Lutheran College & Mankato State University, Mankato, MN
2009 (Grad)
Bellevue University, Omaha, NE
Bio: Mrs. Ehler is currently serving as the early childhood director and teacher at Resurrection Lutheran School. She was born in Clarion, Iowa and moved around the state with her family until settling in Mankato, MN for undergraduate work. Mrs. Ehler received her bachelor's degree in Early Childhood Education in 1999 after attending Bethany Lutheran College and Minnesota State University in Mankato. She taught preschool for four years in Minnesota before moving to Illinois to pursue a career in information technology. After receiving a master's degree in Management of Information Systems in 2009, Mrs. Ehler helped teach computers and software to healthcare staff in hospitals and clinics. She married her husband Tony and settled down in North Aurora in 2012. Mrs. Ehler enjoys spending time with her husband and cats, playing games and building with legos, as well as making crafts! She is very excited to get back to teaching little ones and sharing the good news about Jesus!